Translation
Whether you require the translation of a single-page document or are looking for a qualified translator focusing on business communications, IT or personal documents: I can offer a timely solution to fulfill your needs and meet your highest expectations. 
...
Proofreading
Proofreading is needed to ensure that translations have been done correctly and to the highest quality. One should have the same experience reading a translated document as reading the original. 
...
Localisation
Localisation entails adapting an existing product to account for cultural and linguistic differences for specific countries, regions or recipients. It involves a comprehensive study of the target culture and might include adapting local currencies and measurements.
...
NAATI-certified translations for official purposes.
Clients Say
Hallo Petra, meine Freundin und ich haben heute unsere PR-Visa bekommen. Deine Übersetzungen haben die australischen Behörden also überzeugt.

I have worked with Petra on a few translation assignments for a German client, including certification of the translated document. Not only was Petra responsive with the requests, she sought to understand the client's

Ich wollte mich nochmals für Ihre sehr gute Arbeit bedanken und komme gerne mit einem neuen Auftrag auf Sie zu und werde Sie gerne weiterempfehlen.

Ich bin sehr beeindruckt von Ihrem Kundenservice - und das auch noch über das Wochenende! Ganz herzlichen Dank für die schnelle Übersetzung und den freundlichen Kontakt!

Thank you, that was good and quick service, will be happy to recommend you if I know of anyone that needs a translation.

Vielen Dank für die Übersetzungen. Das hat ja super geklappt. Sollten wir noch weiter Übersetzungen benötigen, sind wir froh, wenn wir uns wieder an Sie wenden dürfen.

I thank you for your quick reply and all your efforts. I will definitely use your services again when I have any future translating needs. Thanks again and liebe Grüße!

High quality translations, quick delivery, very professional! A real pleasure to work with!

Frau Junge hat für uns mehrere Übersetzungen vom Deutschen ins Englische übernommen. Wir schätzen Petras Arbeit und insbesondere Ihre Verlässlichkeit auch unter terminkritischen Aspekten.

Ich werde Sie gerne weiterempfehlen. Toller Service! Ich habe mir erlaubt, die letzte Überweisung um ein Weniges aufzurunden, nehmen Sie das als kleinen Dank für Ihre Zusatzleistungen.
Memberships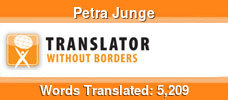 International Association of
Professional Translators and Interpreters